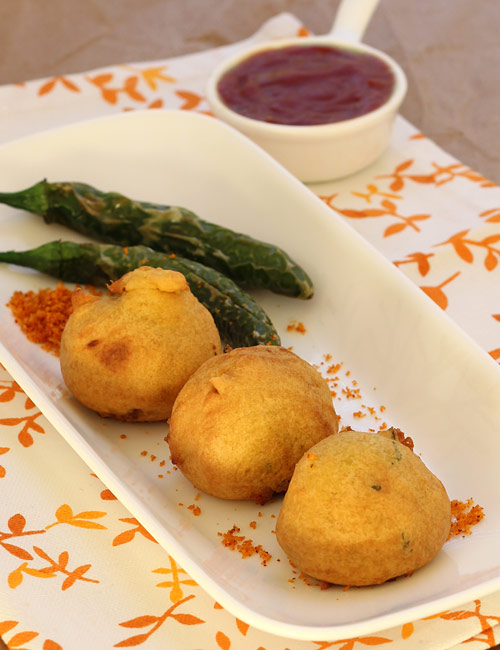 A popular snack from the streets of Maharashtra. Batata translates into potato in English. Mashed masaledar potatoes coated in a thick besan (chickpea flour) batter and deep fried till golden.
Ingredients:
600 gms potatoes
deep frying oil
Tempering:
5 gms mustard seeds
2 gms curry leaves
5 gms turmeric powder
3 gms red chilli powder
10 gms green chillies
10 gms ginger
10 gms garlic
1 lime
10 gms coriander leaves
Salt
Batter:
200 gms gram flour
Water
5 gms red chilli powder
5 gms turmeric
3 gms cumin (crushed)
Salt
2 gms soda bi-carb
Method:
Cook the potatoes until soft, peel and mash coarsely.
Chop or crush together the green chillies, garlic, ginger and the coriander leaves.
Using the mentioned ingredients make a thick batter.
Heat oil and add mustard seeds, after they crackle add the curry leaves.
Mix in all the rest of the tempering ingredients and add to the mashed potatoes.
Divide the potato mixture into equal sized portions, approximately the size of a lemon.
Dip each ball in the batter and deep fry until golden brown in color.
Serve hot with a chutney.
Credits: https://food.ndtv.com
0 Comments