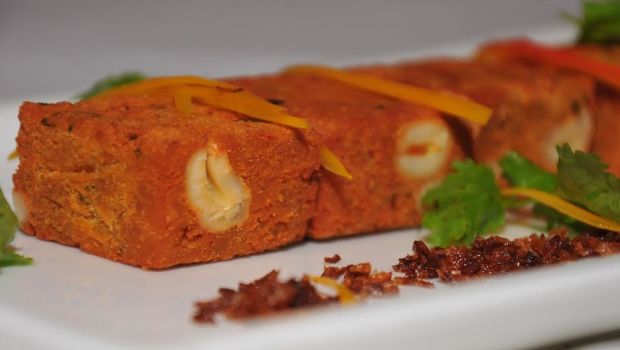 Make delicious kothimbir vadis at home with the richness of cashew nuts. A classic Maharashtrian snack.
Ingredients:
1 cup gram flour (besan)
30 cashew nuts
1/2 tsp turmeric powder
1 tsp red chilli powder
2 green chillies, finely chopped
1 Tbsp tamarind pulp
Salt, to taste
4 Tbsp oil + to shallow fry
2 Tbsp fresh coriander, finely chopped
Method:
In a mixing bowl, combine all the ingredients except oil. Add 1 1/2 cups of water and mix well to make a very thick batter.
Heat 4 tablespoons oil in a frying pan over a low heat. Add the prepared batter and cook, stirring continuously, for 15 to 18 minutes till the mixture comes together to make a thick doughy batter. Remove from heat.
Grease a small tray and spread the mixture evenly 1 inch thick. Set aside to cool and steam it for at least 30 minutes so that it sets. Cut into 2 inch squares.
Heat the oil in frying pan and shallow-fry the squares till golden and crisp. Remove and drain on absorbent paper.
Serve hot with coriander chutney, mint chutney or ketchup.
Credits: https://food.ndtv.com
0 Comments