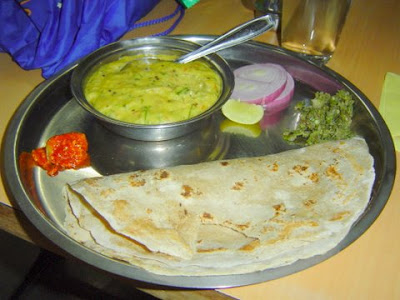 Pithla Bhakri is considered to be the comfort meal by Maharashtrains. It is also called a Farmer's meal or a poor man's meal in Maharashtra which has become highly popular in Pune. Pithla is made from besan or chickpea flour and Bhakri is prepared using Jowar/Bajra flour.
Ingredients
For Bhakri:
2 cups - Bajra flour
2 tbsp - Yoghurt
water as required
salt to taste
For Pitla:
1 cup - besan
1/4 tsp - Turmeric powder
1 tsp - Lemon juice
2-1/2 cups - buttermilk + water
1 tsp - Ginger & Garlic paste
2 - spring onions, finely chopped
4 green chillies, slit
3 tbsp - oil
1-1/2 tsp - Mustard Seeds
1-1/2 tsp - cumin
1-1/2 tsp - Hing
4 Curry leaves
salt to taste
For chilli-garlic thecha:
10 - Green chillies
6 - Cloves of Garlic
1 tsp - salt
1 tsp - Ghee
Accompaniment:
White Butter
Recipe
For Chilli-garlic thecha:
Coarsely pound the ingredients together in a mortar.
For Bhakri:
Season the flour with salt.
Add yoghurt and water to the flour to make a soft dough.
Take a small ball of dough, dust with flour and pat it on your palm to flatten it out.
Roll out to make a round flat bread, as thick or thin as you desire.
Place this carefully on a griddle, roast, flip and roast the other side.
Put on direct flame for a few seconds to make it crisp.
Repeat with the remaining dough.
For Pitla:
Make a smooth paste of the besan, turmeric powder, lemon juice, salt and buttermilk.
Add the ginger-garlic paste, spring onions and green chillies.
Heat the oil in a wide pan. Add the mustard and cumin seeds and allow them to splutter.
Add the hing and curry leaves and fry for two minutes.
Add the besan batter, stirring to prevent any lumps, and bring to a boil.
Add the seasoning and cook on low heat for 7 minutes.
Serve hot with bhakri, chilli-garlic thecha and white butter.
0 Comments